Oggi ho ricevuto un Award dalla mia amica Kikay. "
Kikay means super pa girl or girly
."
....After a while when I go to Teban's page he made me smile with the award he have for me. Thank you Teban.It is also the first award I got for this kikay site of mine.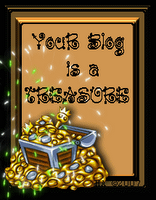 .
I want to present this award to my new friends
Sasha
,
Lutchi2
,
Rickavieves
, and
Hanna
...
THANK YOU KIKAY!
VENDITA PROMOZIONALE!
SCONTO 50%
vendo il mio blog a metà prezzo!

My blog is worth $100,488.12.
How much is your blog worth?
Mi sono sempre chiesta perchè tanti se lo mettono in sidebar, questo widget di
Dane Carlson.
Certo, è come esibire belle foto, 5 PR di Google o di Technorati rank 30.000 e Authority 200.
Certo è come aver 500 visite al dì, o 100 commenti sotto ogni post /senza contare i propri, che alcuni rispondono a persone singolarmente per montare la cifra ;))
Ma a esibire tutte insieme queste prodezze o tesori del proprio blog c'è ne vuole!!!
Se uno col blog parte da zero, si deve armare.
Di pazienza, furbizia /non scambiare con intelligenza/ o di certe nozioni.
Ma se uno se lo comprasse un blog già avviato??
Vendiamo i nostri blog?
Quanto vale il tuo blog?
How much is your blog worth?
Monetize your blog!
Seeee..
award
,
blogosphera
,
blog-roll